KZ ZEX Pro (x Crinacle) Review. They tried
I don't really know much about cheap headphones, and I feel it's important to admit it right away. Well, it's not that I know nothing about cheap Chinese ones, but I've only heard the names of some manufacturing companies.
But when the KZ ZEX Pro (aka KZ x Crinacle CRN) came out, I got curious: Crinacle being mostly engaged in headphones measuring and analyzing, together with KZ produces a hybrid model with neutral tuning, and all that for around $30. The headphones motto says 'You don't need to pay for tuning': that is, the right tuning is available for any, even small money.
So I rushed to AliExpress and ordered these.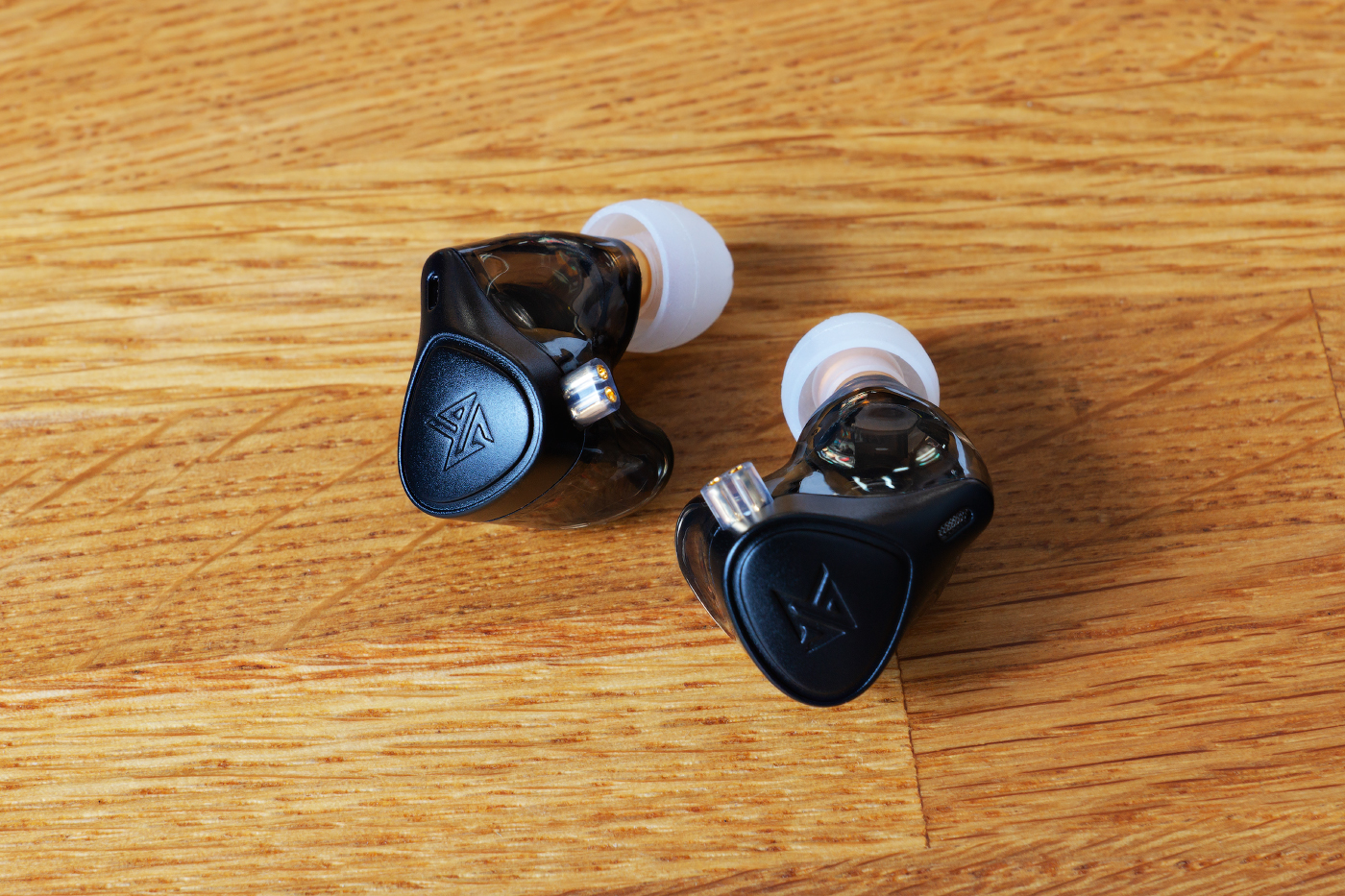 What's included & specifications
The headphones come in a very simple rather small box. There are a 2-pin (0.75 mm) cable with a 3.5 jack and three pairs of earpads inside. Headphones' technical specs:
Design: in-ear closed-back.
Drivers: 1 dynamic, 1 armature, 1 electret.
Impedance: 25 Ohms.
Sensitivity: 104 dB.
Weight of a single earpiece: 7 grams.
Ergonomics and manufacturing quality
The headphones are made of glossy transparent plastic, the shell is opaque matte (black and gold versions available). As for the fit, it's an ambiguous experience: those 'wings' protruding from the enclosure put a lot of pressure on my ears.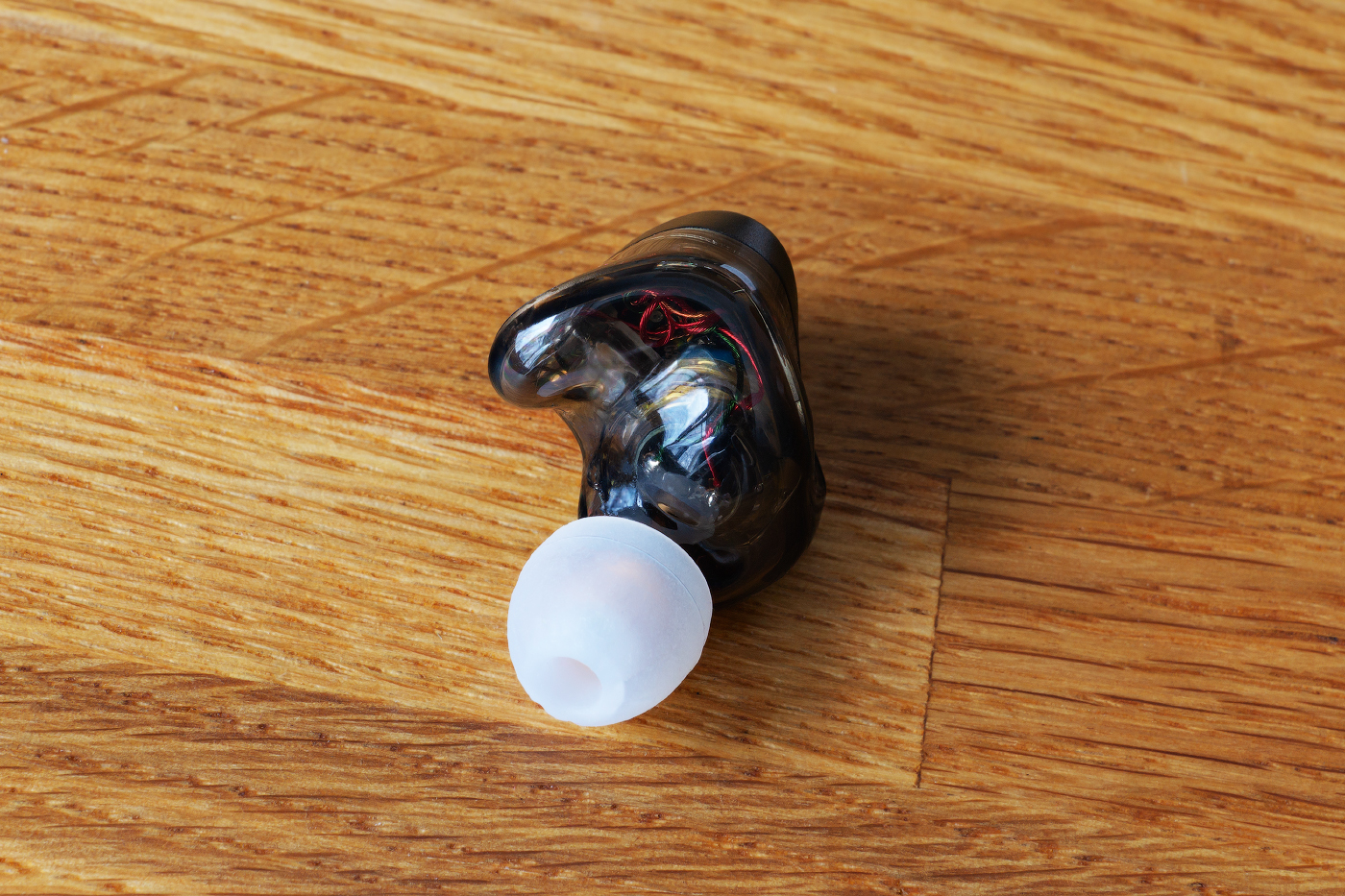 Moreover, these wings have nothing inside (I mean, these don't cover anything electronic), that is, the manufacturer made these appendices on purpose — for better ergonomics (thanks a lot). Well, I believe that it's just my ears, since the rest of the enclosures fit inside the auricle and the auditory canal quite comfortably.
The headphones are simple, but neat. The sound ducts are even protected by mesh.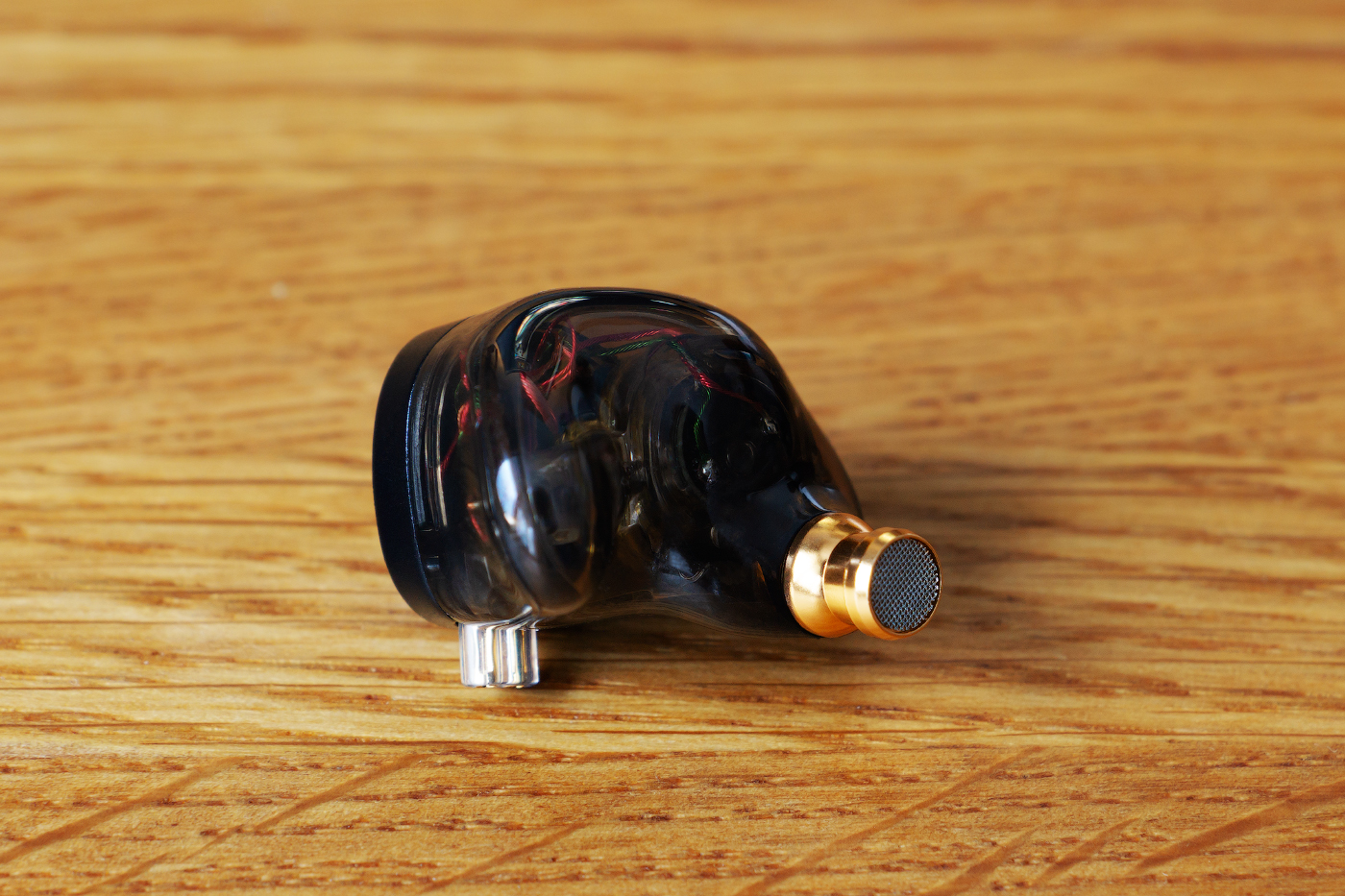 Measurements and sounding
The measurements were performed on a modified miniDSP EARS measuring stand calibrated to the IEF target curve for in-ear headphones. The headphones measurements corresponding to the target IEF curve should look like a flat curve in my graphs. For each of the earpieces, the measurements were made until 5 reliable and stable measurements were obtained for the left and right channels; any deviant measurement results were excluded. The resulting measurements were obtained by averaging the responses of two channels, that is, ten measurements in total were taken into account. All diagrams shown feature 1/12 octave smoothing. As always, for the info about rigs, graphs and headphones measurements refer to my article.
The frequency response of the KZ ZEX Pro normalized relative to the IEF curve  looks like this: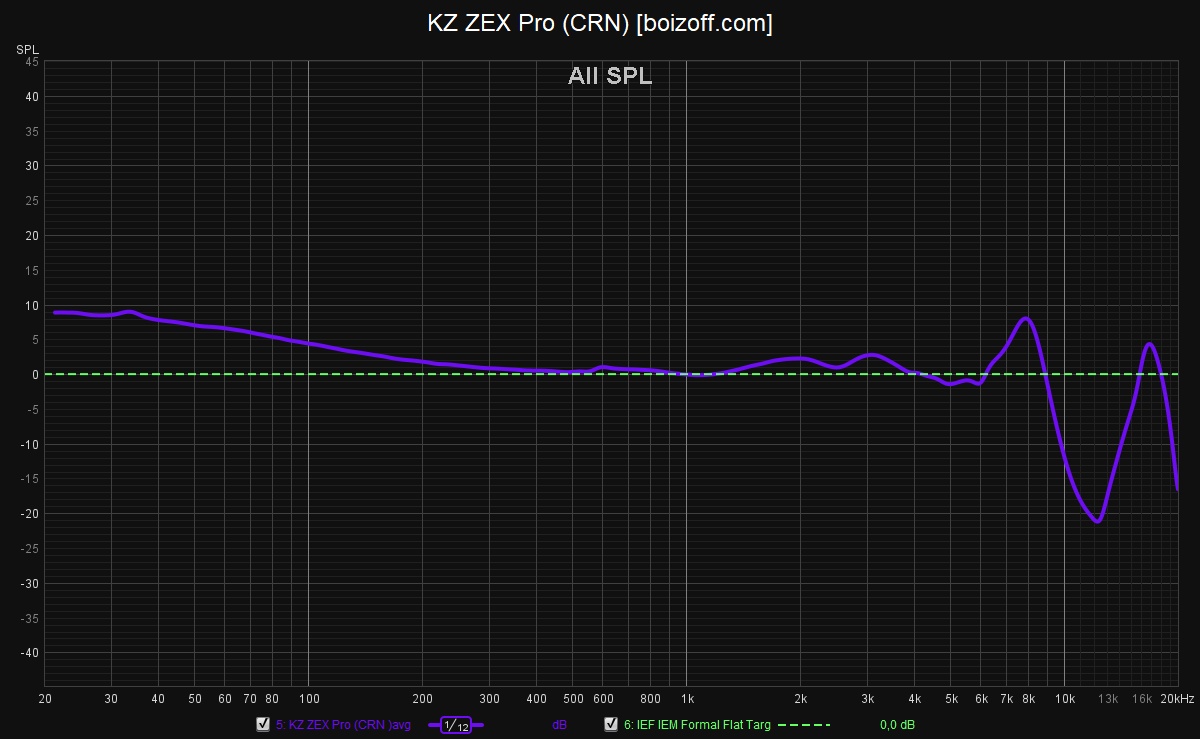 Let's see what it says:
The lower-frequency range is configured in an extremely neutral manner as for in-ear headphones. The sub-bass doesn't interfere with the bass, and the rise reaches its maximum at the very bottom — at 20 Hz. Hence, while listening to some music (with the right earpads, of course), the bass seems to be fast, somewhat whipping.
The middle section is completely flat, except for some small rises at 2 and 3 kHz.
The upper frequencies are… well, pretty odd. There's a peak at 8 kHz (+8 dB), then a sharp dip at 10−16 kHz, reaching -21 dB at its minimum.
Aaand just in case you didn't know, such a tuning removes all the 'airness', all after-sounds, that sounds of the singer's breathing, as well as the upper-frequency section of cymbals, saxophone, violin, etc. from any recording like COMPLETELY. That being said, there are a quite collected and detailed bass, wonderful analytical middle frequencies, but right after those there are those sharp and shrilling sibilants due to the 'hump' at 8 kHz, and then just an endless silent pit. I mean, the headphones sound sibilative, but dull at the same time: as if your ears are stuffed. I don't even know how it can be better described. Needless to say, due to this dip after 10 kHz, the feeling of the volume of the imaginary sound stage is radically reduced.
Hoping to assess the sounding from a subjective perspective, I tried the ZEX Pro with various music genres, from minimalistic to jazz of the 50s, from EBM to Schnittke, from reggaeton to Bulgarian folk songs. What was it like? Well, you can listen to some not too energetic electronic tracks for sure without losing your mind, given that you don't really know how it actually should sound, that is, without any actual music instruments or references to check on. Then yes, it would be somewhere around okayish.
I also tried to equalize the sound (using ADI-2 DAC), and it turned out that you actually can fix the sound: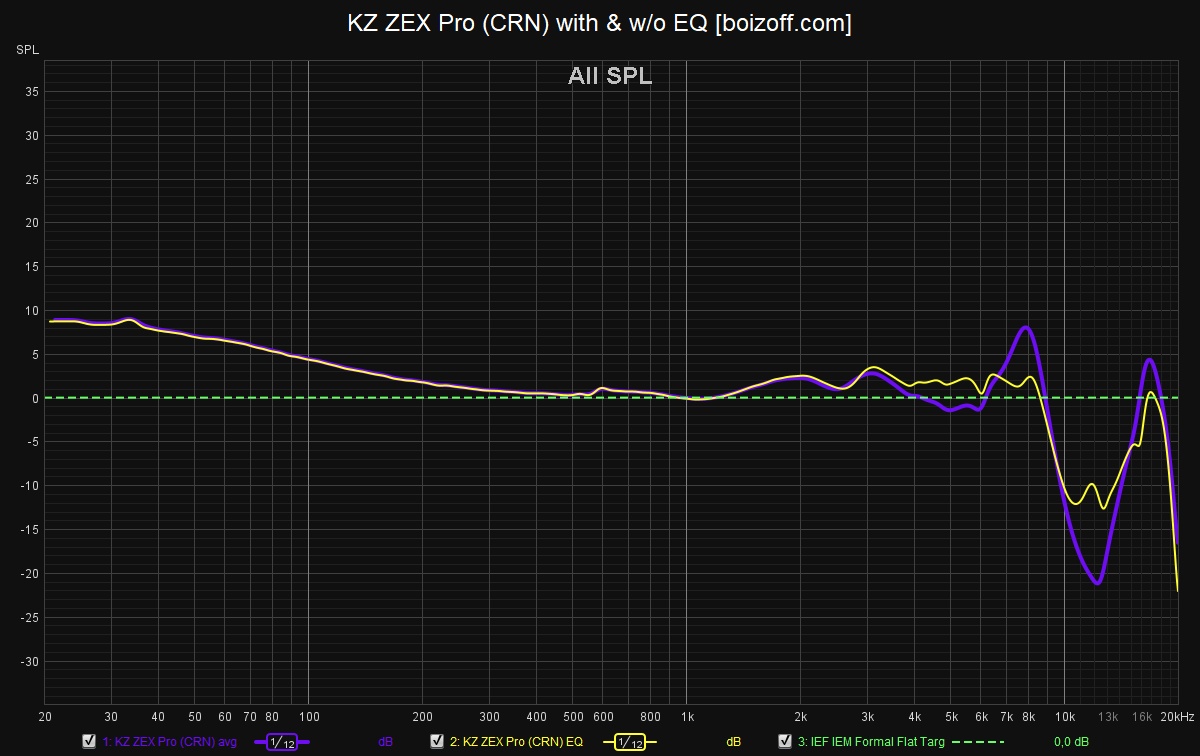 But, firstly, the 10−16 kHz dip still remains at -10 dB, and that's still a lot. And, secondly, the unpleasant sharp squeaky hint doesn't go away, no matter how hard you fiddle the equalizer. Maybe it's all about that electret driver the manufacturer used to take care of the upper frequencies and to save on at the same time, and this same driver is actually doing good, I don't know.
To be honest, I'm not surprised by the generally bad sounding of these headphones, because $30 is $30, after all. What I just can't understand are the usage scenarios. Like, okay, use it with an equalizer. Alright, which one to use, since smartphones don't feature analog audio jacks anymore? The one in a DAP or in a PC/laptop, of course! The question is, why would you buy $30 headphones while having a separate DAP? Would you really connect such headphones to a PC or laptop and why? And the trickiest question is where can you get a functional equalizer capable of pulling the frequencies up by +/-20 dB?
Questions, questions everywhere.
Like I've already mentioned, I don't know much about headphones with such a price tag. But I still wanted to compare the ZEX Pro with something very affordable. The only qualifying model I could pick is the AKG EO–IG955 headphones. Wait with the googling, these are just the headphones (the headset, to be precise) for the Samsung Galaxy S10 smartphone. At the moment, these are no longer available to buy at stores, but are still there to buy from individuals in excellent condition for around $8. When the S10 was released, the headset was on sale separately and cost some $40. Long story short, I grabbed the headset, did the measurements and compared those with the ZEX Pro ones:
Despite the clear V-shaped frequency response and the huge peak at 14 kHz, the EO-IG955 sounds much more harmonious and pleasant than the ZEX Pro. Not more correct, just more pleasant. But even I, being a big fan of 'smooth' headphones sounding and sound delivery close to the original creator's idea, wouldn't think for a second as what to choose between the two. The EO-IG955 model obviously wins. Don't get me wrong here: it's not that the EO-IG955 are good headphones, it's that the ZEX Pro are even worse.
Summary
As far as I can tell, when trying to adjust the frequency response of headphones worth $30, be ready for a lot of technical limitations. And if the headphones in question are a 3 different types of drivers mode, then there will probably be even more limitations. Therefore, here's my conclusion: the $30 worth in-ear headphones just can't be good. I mean, it's the big and established Crinacle − and he couldn't do any better for such money, so no, you wouldn't find anything decent at all. Of course, there are still tons of listings of second-hand headphones, but if you want something new or in 'as new' condition…
Therefore, a separate question arises around the Crinacle's statement 'You don't need to pay for tuning' (source):

As far as I understand, if it actually was technologically possible, the tuning would be different — the measurements of the best (according to Crinacle himself) in-ear headphones look somewhat different, especially after 10 kHz. That is, something tells me that if the frequency response is actually the main spec of any headphones, then we do pay for tuning. But the tuning — if not neutral, then at least digestible over the entire audible frequency range — is a serious technological problem that is being solved only in relatively expensive models.
OR we're dealing with some sort of conspiracy between manufacturers.
And as for the KZ ZEX Pro in question, it just… didn't work out. These are just bad cheap headphones, that's all. But I think it's not because someone didn't try hard enough or deliberately chose the wrong frequency response configuration (perhaps the Crinacle is the last person to consciously opt for such a tuning), but because at the current stage of technological progress any decent headphones with neutral sounding for such money are simply impossible to create.
In fact, my thought is that it's not even about the fact of the release of these headphones itself, but the ongoing process of cooperation between a competent reviewer and the manufacturer. And I believe that sooner or later they just must produce something decent. Let it cost $65−80, just do it right.