Moondrop Quarks DSP review. The charming quarks
How do you think some $10 headphones sound? Well, not a question to start with. Do you think some $10 headphones work at all? Would you want to know about them?
These are the questions I'm going to expertly (ha!) answer below – in this Moondrop Quarks DSP (hereinafter – MQDSP) review.
What's included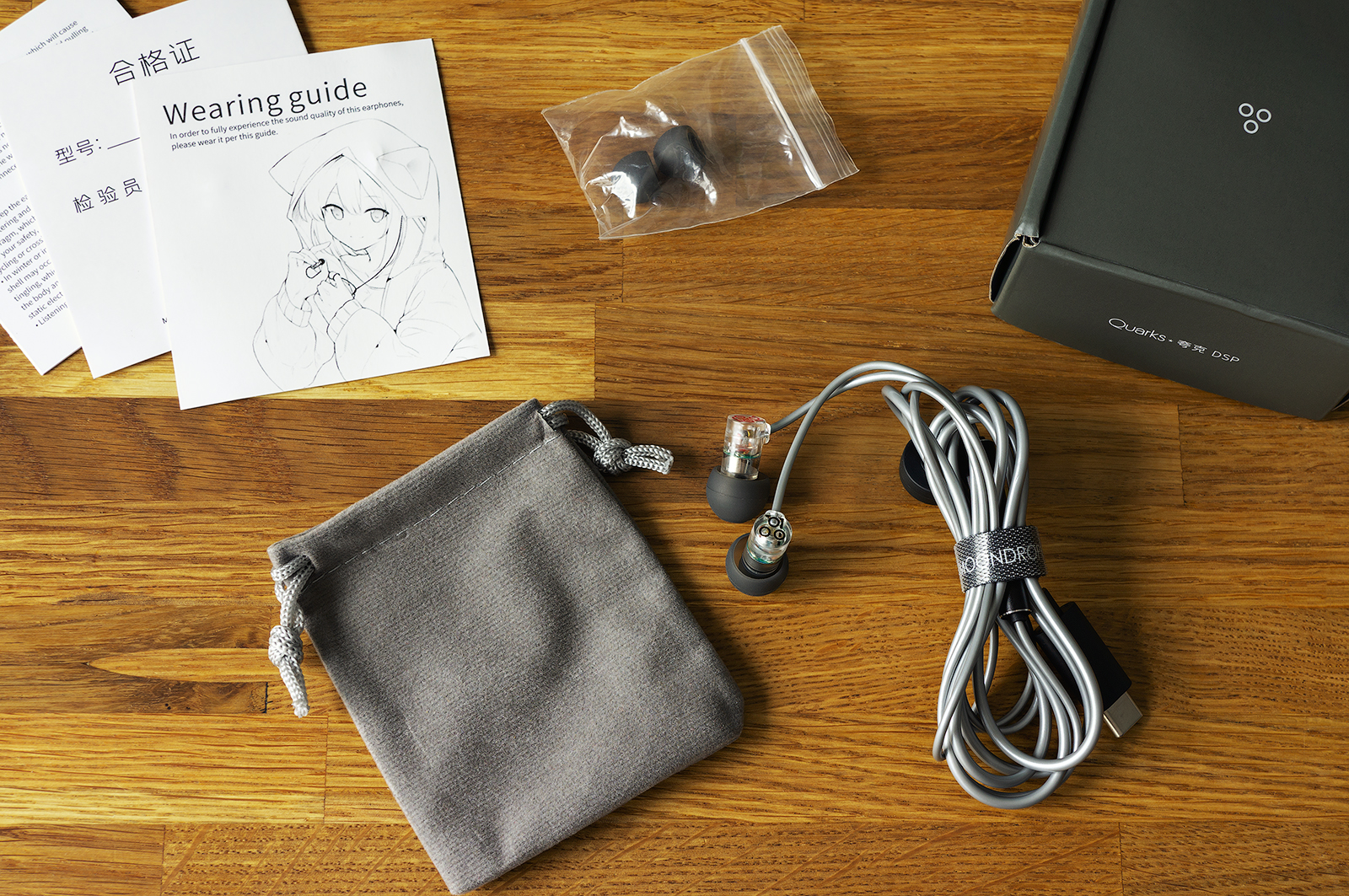 Besides the headphones, the kit includes:
3 pairs of eartips;
some papers;
fabric cover (wow).
All this comes in an absolutely unremarkable one-use box.
Design, assembly, technology
The plastic enclosures are completely transparent. The design is rather primitive and not so engineered (or even assembled perfectly), but the headphones have a cylindrical shape, which, combined with their small size, makes it pretty easy to fit inside almost any ear.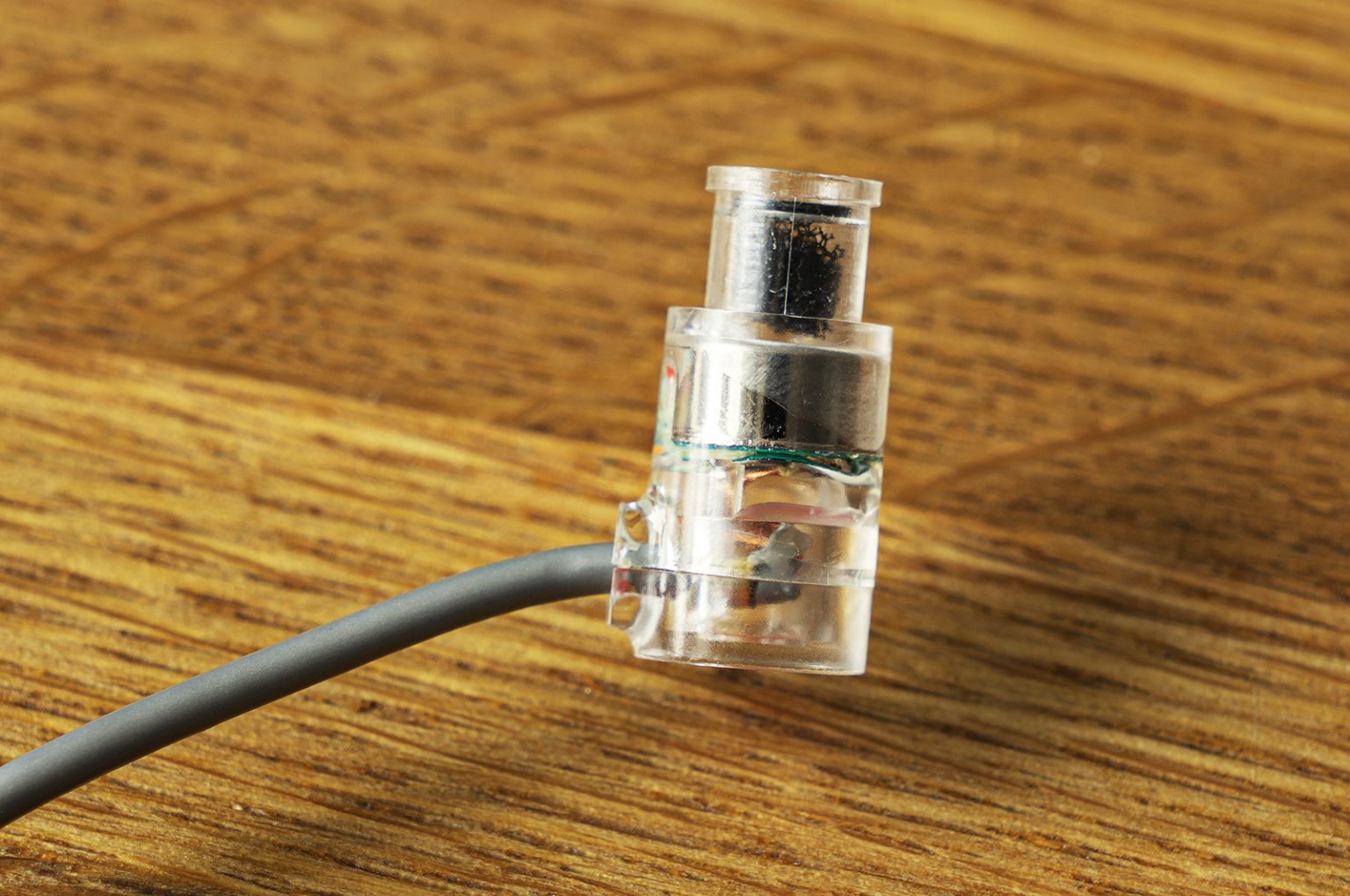 The cable is non-replaceable (I wouldn't even mention it given the price, but just keep this in mind), and a mic unit with volume controls/playback/call controls can be found on the right earpiece cable. The main cable ends with a USB Type-C connector with a built-in DSP module.
The eartips are okay. Just… okay. In terms of comfort, they're pretty far behind any Spin Fit, Spiral Dots or Spring Tips, but, as you may know, any of those cost more than the MQDSP.
To summarize my impressions on the build: the headphones work, and they didn't fall apart in a month of use. As for the design aesthetics, any special ergonomic decisions or additionally supplied stuff… Well, there's none of this, and the reason is pretty obvious.
Ergonomics
I must say that despite the extremely simplified enclosure geometry, the headphones are actually pretty comfortable both with the usual and with the behind-the-ear fit, which I chose as my main option (since this one radically reduces the mic effect of the cable).
If you shove the earpieces deep enough in your ear canals and select the right pair of eartips, it all results in excellent sound insulation without any unpleasant itching or other irritating sensations inside your ears.
It's also important to note that these are compatible with Android smartphones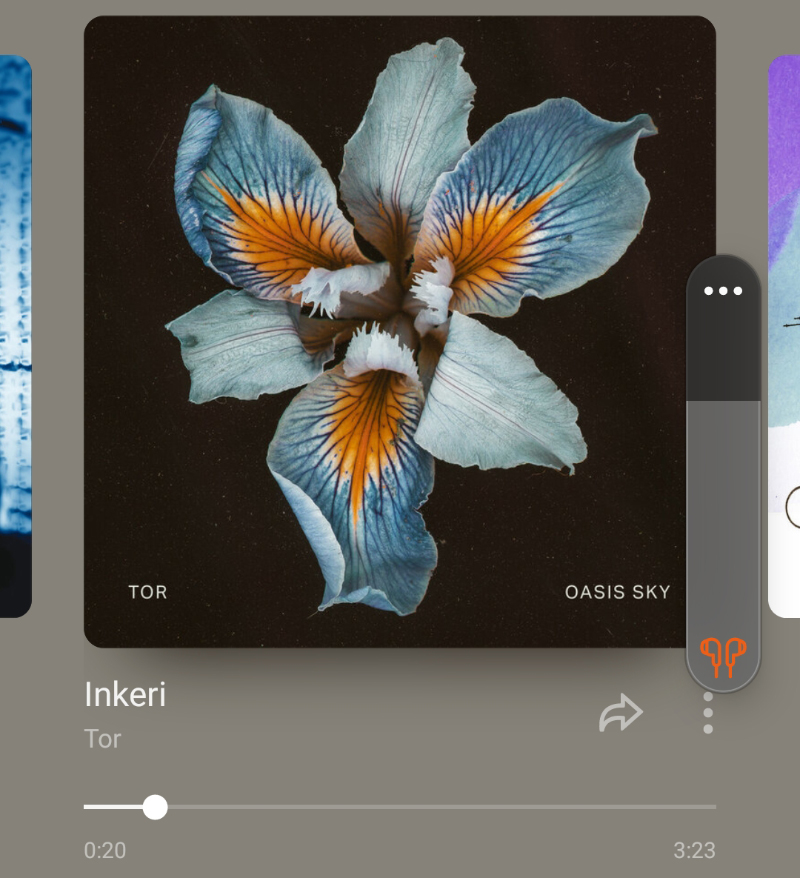 and with Windows 10/11 PCs as well:

In the latter case, they appear as a 16-bit/48 kHz playback device, and that's it – you can't change the sound bit rate or sampling rate.
Logically, the most common usage scenario actually works: you can use the MQDSP with your smartphone while commuting, and then you can connect them to your office laptop and jump into a conference call. Isn't it convenient? The mic works nice, the voices are reproduced quite closely to what you remember of your colleague, and you can easily make out what that person's saying (unless they start talking about breatharianism – mental health awareness y'all!).
Quick specifications overview
Design: in-ear closed-back.
Drivers: 1 dynamic driver.
Impedance: 16 Ohms.
Sensitivity: 113 dB.
Subjective sound impression
I've been testing these headphones for about 20 hours with a Samsung Galaxy S23 Ultra smartphone, a PC, as well as an ASUS G14 laptop as the sound sources.
The headphones sound saturated, comfortable and wide: the amount of bass is greatly increased compared to the neutral version, while the middle section isn't suppressed, and the music has that clarity and transparency due to the emphasis around the upper part of the middle section of the frequency range. The upper section is reduced, there's no accent you'd expect from in-ear headphones at around 8–9 kHz, but there's also no extended overhangs or any clear understanding of the sound stage.
In short, before any measurements, the setup sounds like a standard Harman situation, but with a bit suppressed around 6–8 kHz. As always, I'm reminding you that the amount of bass/subbass you hear when using in-ear headphones strongly depends on the selected eartips and how they press against the walls of the auditory canal. You know that a measuring rig allows almost ideal fit, and, therefore, the graphs show something you wouldn't actually see in real use, that is, less pronounced bass and subbass. Another thing to point out here is that the subbass is really masked by street noises when outside usage.
The sound delivery is versatile, pretty much vibrant, but at the same time quite detailed – and no part of the frequency range is hidden at all! This is why the MQDSP certainly work for 95% of users and 95% of music material. Awesome! Of course, any classic or academic orchestral music will sound… not as full and saturated as it could. And of course, the subbass will lose texture and, like, mumble here and there, but it's kind of natural for such a tuning. It's just the reverse side of a medal, if you want.
To summarize it all, the MQDSP sound fantastic, and given the $10 price – just un-freaking-believable.
Frequency response measurements
A measuring rig conforms to the IEC60318-4 standard. For each of the earpieces, the measurements were made until 3 reliable and stable measurements were obtained for the left and right channels; any deviant measurement results were excluded. The provided earpieces were used for measurements. The smoothing is indicated on the graphs. As always, for the info about rigs, graphs and headphones measurements refer to my article.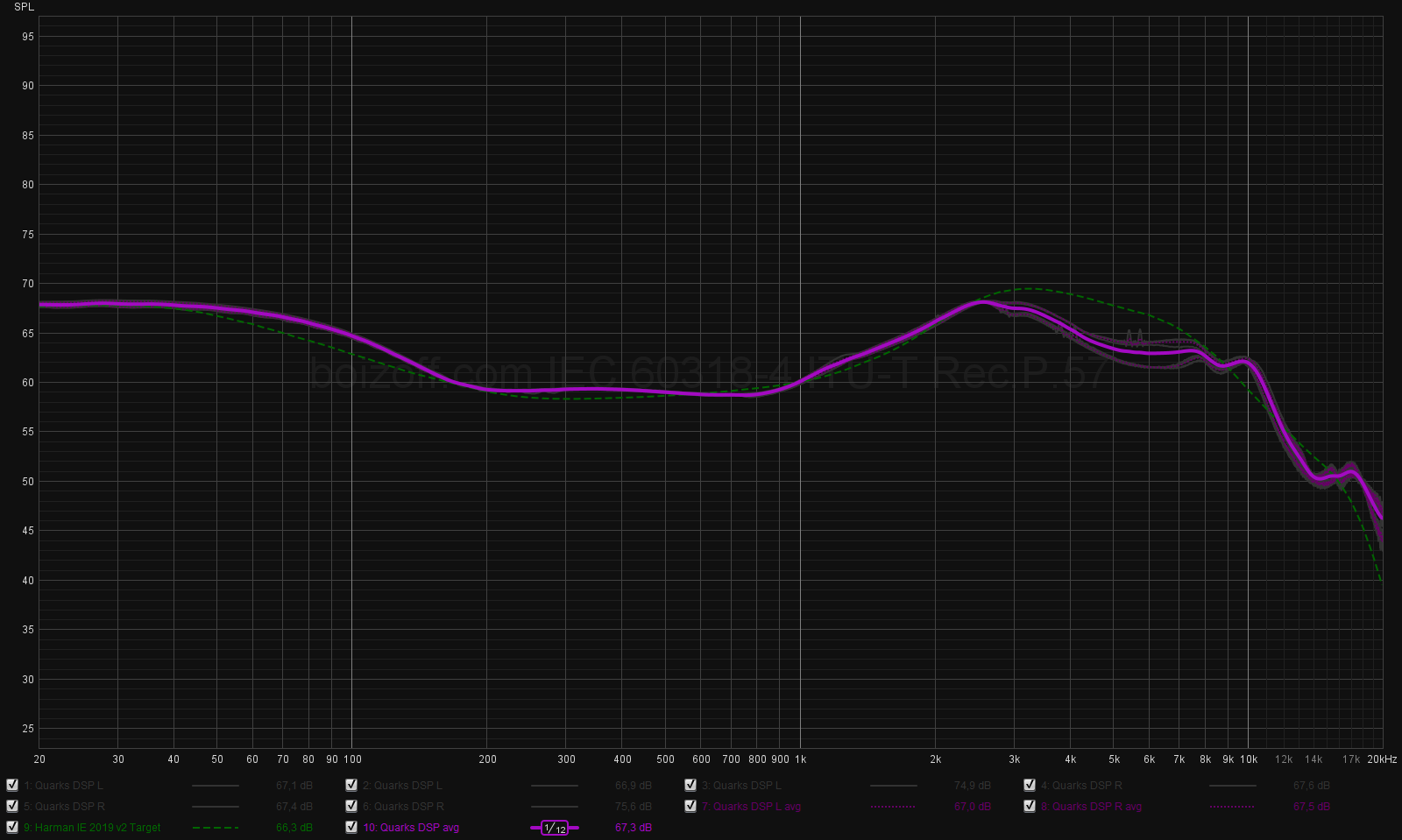 What you see on the graph is exactly what you hear. There's a pretty shameful excess rise at 100 Hz; if the MQDSP setup corresponded to the reference curve more strictly in this part, the bass would be perceived as more fast and technical. But, again, you don't want to bitch about such small blunders, right?
Instead – look at how well the channels are balanced!
Summary
The Moondrop Quarks DSP are elementary like these same quark particles – you just can't comment on any of their parameters in any meaningful way, since the manufacturer just didn't want any decorations, any smart tech… We, elite audiophiles, have nothing to latch on here. However, the ergonomics is versatile and quite acceptable from all angles, and the sound quality to price ratio isn't just good. It's insane! The whole industry – look at this and take notes! The MQDSPS easily outsound everything, absolutely all wired headphones you'd find in your new smartphone box. And you know that if you buy the latter separately, you'd pay 2-3 times more, right?
Not that the smartphone manufacturers include some free headphones, but still.
All TWS headphones (except for one model, which I'll tell you about soon) are far behind the MQDSPS, too, regardless of their price.
As for some more expensive TWS models, some ask $50 to $100 for the same sound quality just like that. Greedy morons. Their headphones look a lot more premium, that's for sure, but what they deliver in terms of sound quality is the same. Sometimes worse.
That being said, the MQDSP are a win-win option for those fancying decent sound for a penny, and very versatile, too: the MQDSP work with smartphones, laptops, PCs (via an adapter). The MQDSP provide that rather simplistic 'warm' sound delivery with articulated subbass and the upper part of the middle section of the range. It's refined and may not be suitable for an audiophile. It goes with almost any music genre and recording quality, it's very versatile and loved by many. In a good way. Gaming, phone calls and conferencing, enjoying any now mainstream music, movies – while commuting (even in subway), too – the MQDSPS are a gem for this all. I mean, that is perfectly sufficient for a person who doesn't dive into a panic attack if they can't hear that third violin in the fourth row on some rare orchestral recording available strictly in DSD format. That is, for an average listener.
As for the obvious comparison with Moondrop Chu, the MQDSP wrestles the Chu down in terms of price and sound versatility, though loses the battle in terms of sound neutrality, as well as build quality and materials. I actually wouldn't be surprised at all if more users like MQDSP than Chu.
The only concern about the MQDSP is their reliability – and I can't say anything here, because I haven't used it for that long to evaluate it. The Reddit nation didn't post any mass complaints, and it's good.
Here's my summary: if you need some great-sounding, but very cheap wired headphones with a mic and a Type-C connection, go buy the MQDSP now. Or, a tip for adventurers: this model might be interesting to just buy and test.
As a conclusion, here are some obvious, but important thoughts about the future. The next step I'd take if I were Moondrop is to release a similar model with a hardware DSP, but with the ability to configure the DSP via an equalizer. Preferably – a parametric one. And with slightly more complex design, slightly more premium materials, an app allowing to store equalizer profiles and (somebody stop me) share them with other users – this would be a dream model. An Eiffel tower among headphones. A shark near a beach crowded with other headphones. It would be awesome, but, judging by the experience of using the Alice, Moondrop doesn't want to have anything to do with progressive software. But we're dreamers, and dreamers tend to hope for a better.