The Dope Audio is a company Saint Petersburg, Russia, and was established in July 2019. Now the company manufactures and sells 3 models of in-ear headphones. I'll introduce you to the balanced armature Heavy Dope headphones in one of the upcoming reviews. And in this one, I'm going to tell you about their flagship model.
Pure Dope are technologically unique, since they're an in-channel isodynamic model. Along with this, they don't have that weird jug-like shape as Audeze iSINE or Unique Melody ME1 do — in fact, they're a particularly compact medium sized (for in-ear class models) headphones. I can remember exactly two models of such headphones: the RHA CL2 and the Tin HiFi P1. The manufacturer also hints at a technologically complex design inside using, for instance, horns. No details given, though.
All images are clickable to enlarge.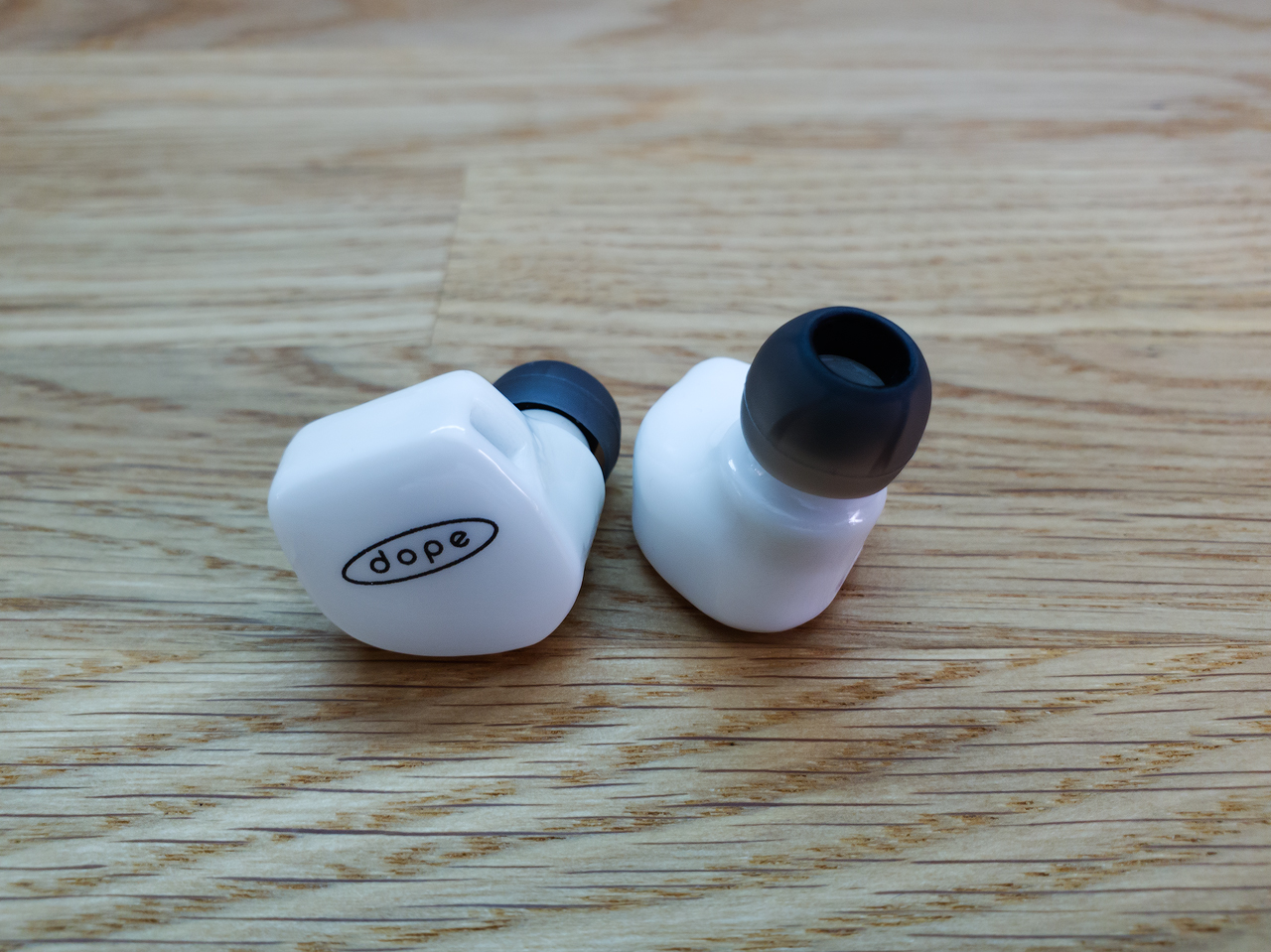 In terms of design, the manufacturer uses a radical approach: there are no decorations as such, the snow-white finish only sports a black 'dope' text taken into an oval shape. Quite minimalistic, huh?
The Pure Dope enclosures are 3D-printed, then the logo is applied and the whole thing is varnished. Therefore, the exterior is pretty simple itself with no seams visible. And the enclosure is not easy to scratch.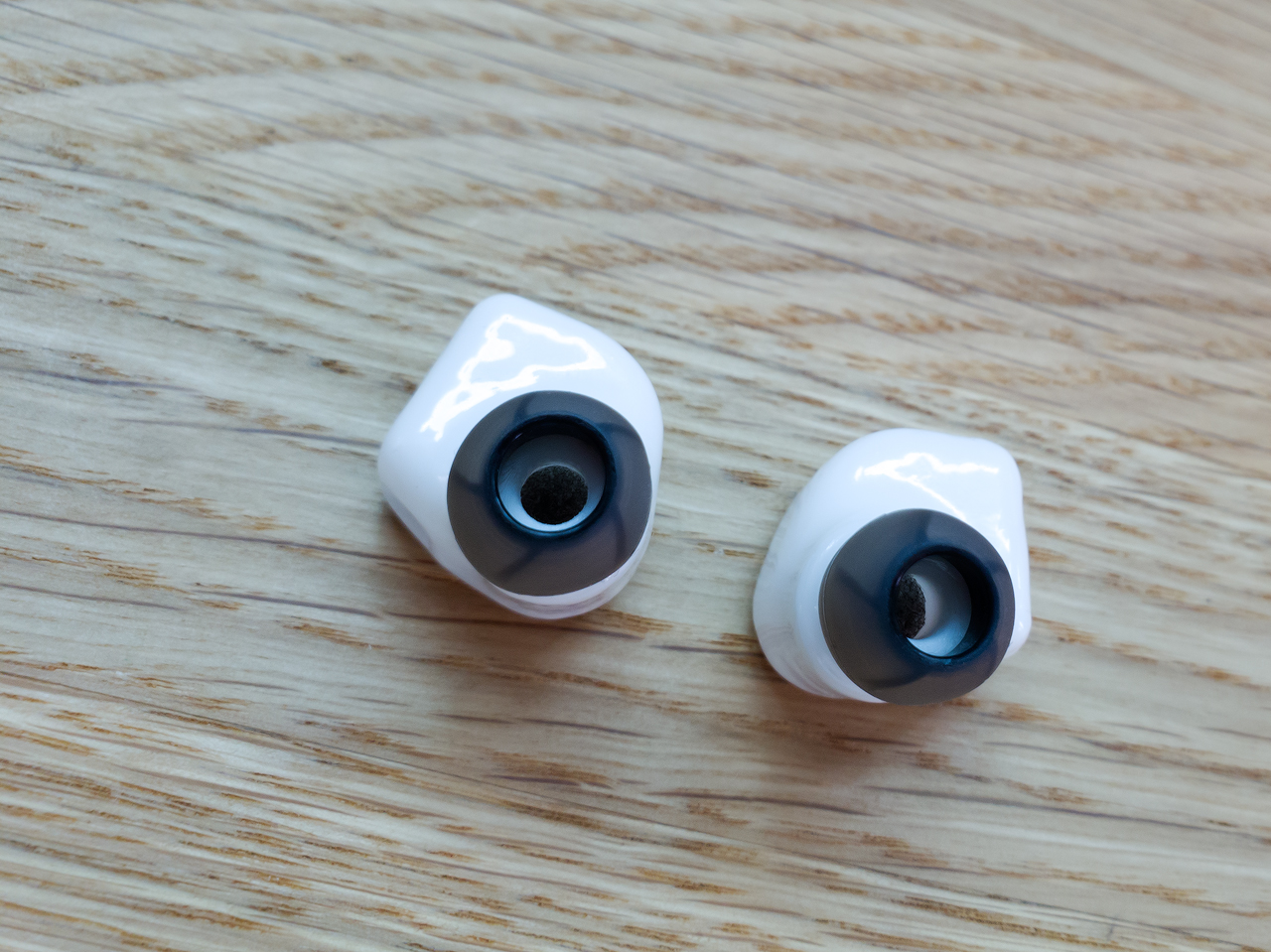 The enclosure shape is fairly ergonomic and seems to be good enough for most users. However, I couldn't fit the headphones any comfortably inside my ears due to the specific eartips provided with the headphones. They have short sound ducts, and look like balls. After 10 minutes of agony roaming across different options from my collection, the choice was made: the SpiralDots turned out to provide nice sound insulation and comfortable fit. It's worth noting that SpiralDots don't have any constrictions along the sound ducts, so the sound I'll be describing below (achieved with SpiralDots) is identical to what you can get when using eartips, included in the package.
Now to the cable provided. It's thin, it's lightweight, and comes with ear holders. It has 1.2 meters of silver-plated copper wire with an angular 3.5 mm jack and resistance at 1 Ohm. A decent cable, nothing special — but quite convenient. The headphones are connected via 2-pin connectors.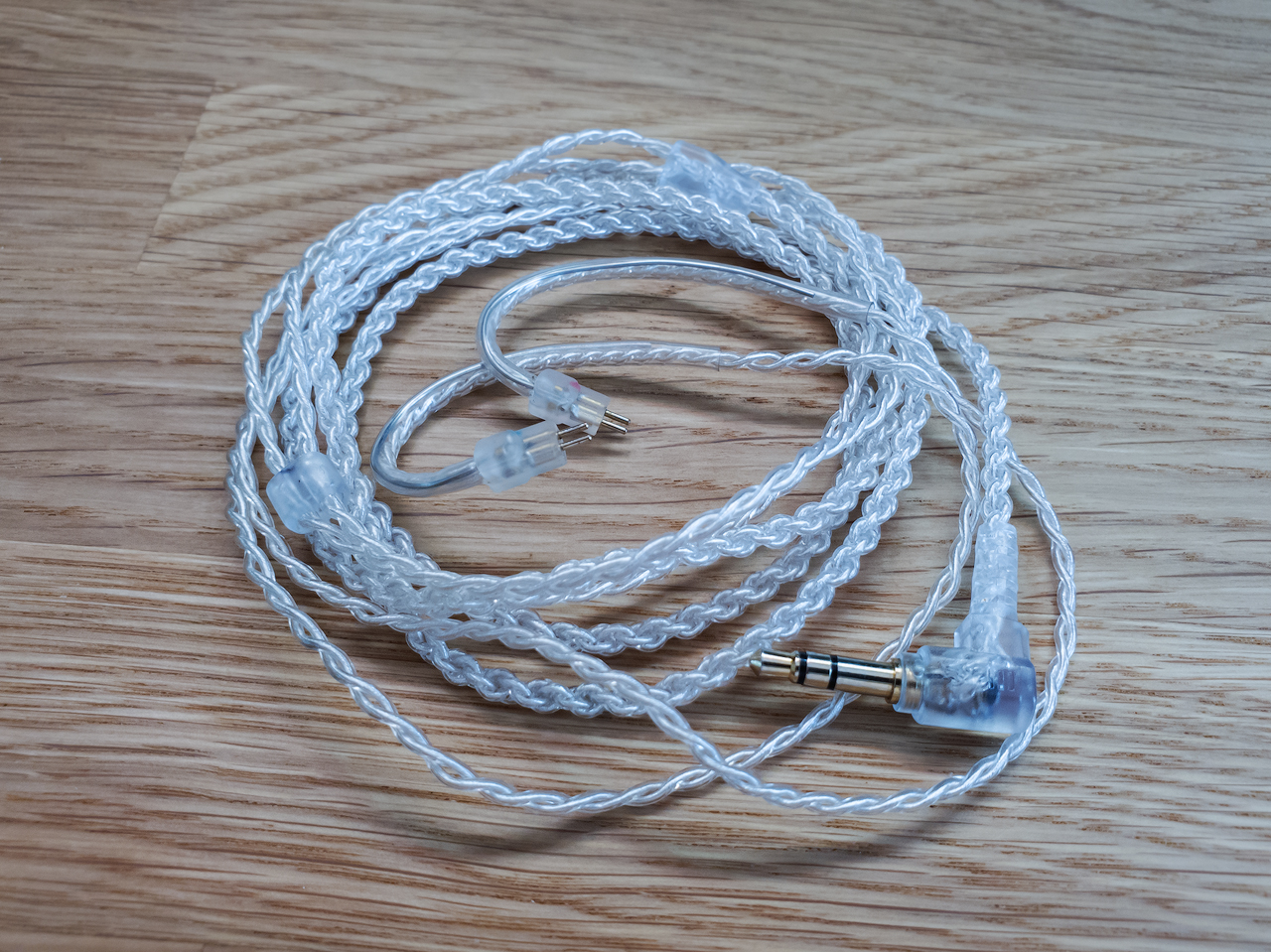 The planar drivers are made to order in China, and the cables provided are manufactured in China, too. All other procedures related to the enclosures manufacturing and assembly are carried out in Saint Petersburg.
The Pure Dope specifications:
acoustic design: fully closed-back;
diaphragm diameter: 9 mm;
sound duct diameter: 4.5 mm;
earpiece weight (without eartip): 3 g;
frequency response range: from 8 Hz to 50 kHz;
impedance: 21 Ohms;
sound pressure: 96 dB @ 1 kHz.
In essense, these headphones are, firstly, very lightweight, and, secondly, require a fairly powerful sound source.
I tried Pure Dope with the RME ADI-2 DAC, as well as the Hiby R5 player. When connected via the ADI-2's in-ear headphone output, the volume needed to be increased to -4.5 dB. When connected via 6.3 mm jack (with an adapter) and 'High gain' option enabled — to -30 dB. I actually didn't notice any difference in sound stage width, detail level, or bass clarity when switching between the outputs. I also had to switch the Hiby R5 player to the 'High gain' mode and set the sound to 63 points to achieve the same volume. That being said, I'd recommend using portable sound sources that are able to easily produce a minimum of 500 mW per channel. Or better — get yourself a balanced output with all its perks.
The manufacturer doesn't provide any frequency response measurements on their web-site, and I couldn't find any third party measurements anywhere as well. However, based on what I could hear, I'd assume that the Pure Dope frequency response graph looks something like this: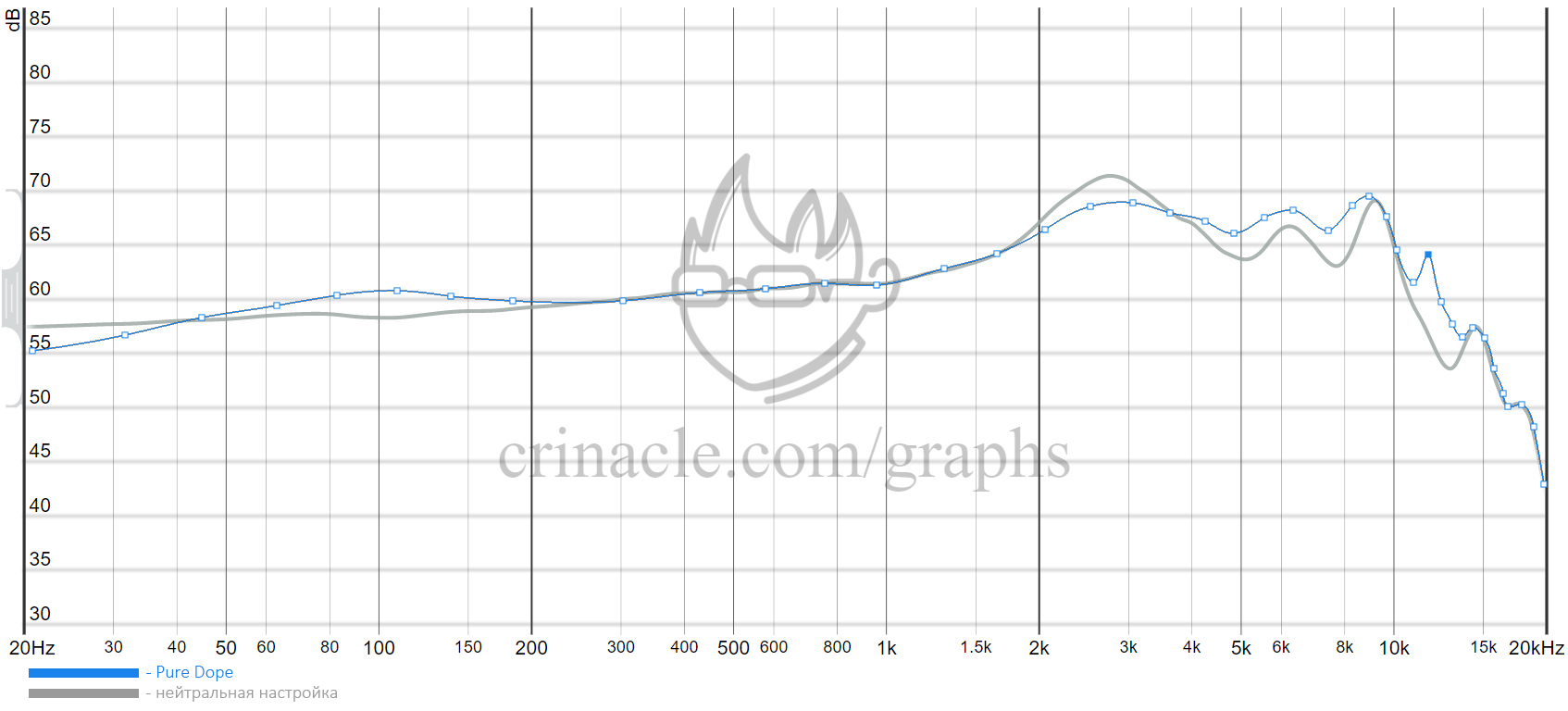 In other words, the range is slightly raised around the 120 Hz mark, is slightly lowered at the 3,000 Hz one, raised at the 7,000 Hz mark, and there's also a tiny peak at 12,000 Hz.
The Pure Dope are still far from delivering trulyear-piercing sound: if we overlay the the HD800's frequency response graph (the green line below), it becomes obvious: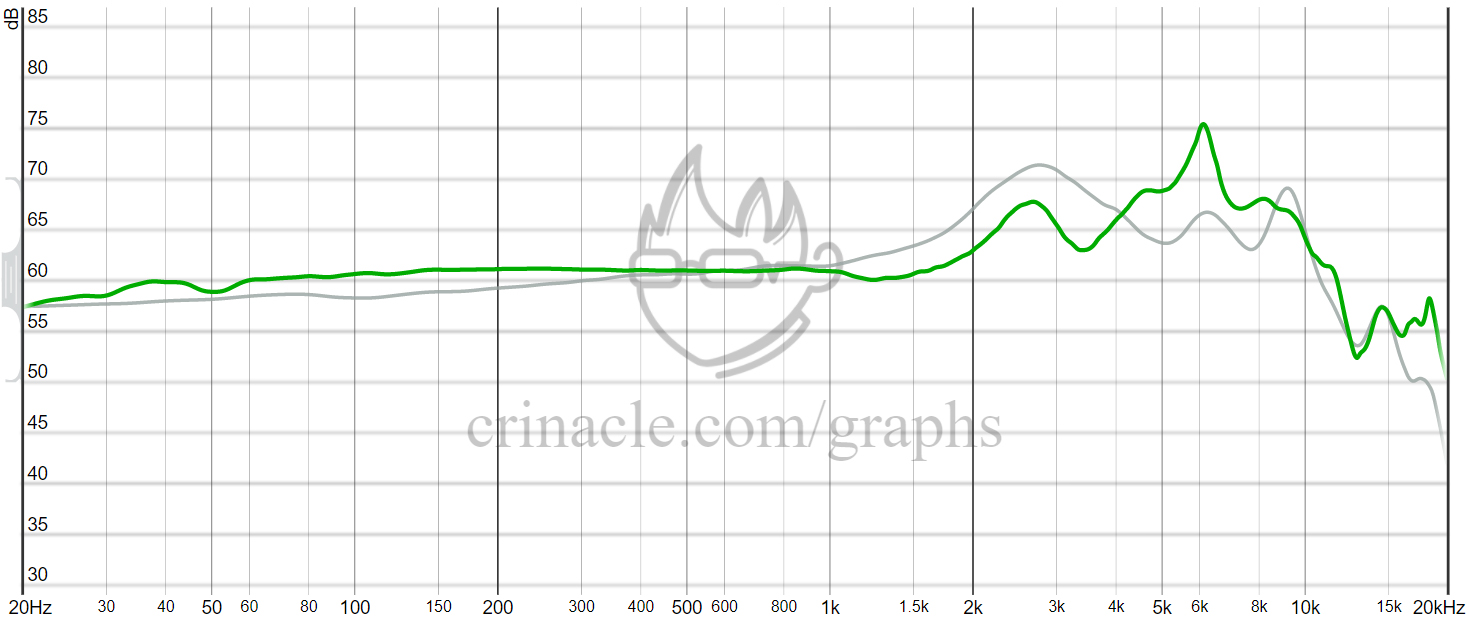 Moving on to the Pure Dope's sound, finally. It's a challenge, since I would hate to accidentally overpraise them.
The manufacturer claims that Pure Dope may be used as monitoring headphones to mix and master music. Judging by what I could hear and what I've reflected on the graph above, the manufacturer isn't lying at all. The tuning is neutral, and the sections in my graph above, which are deviating from neutral, are most likely due to the specifics of my hearing.
Actually, this very neutrality of tuning is what you first notice when listening to Pure Dope. The tone quality of every musical instrument and voice sounds completely natural throughout the frequency range. For instance, the female three-voice in HaBanot Nechama – Lovers, saxophone and cymbals in John Abercrombie Quartet — Where Are You, the drum rhythm in The Brandt Brauer Frick Ensemble — Pretend, violins and harpsichord in Jacobs, Lisa & The String Soloists — 1. Allegro: Locatelli Violin Concerto No. 1 in D Major, Op. 3, No. 1 sound exactly like in real life.
The second thing that nearly jumps out at you is how the Pure Dope handles full bass and sub-bass. Unlike other flat monitoring' headphones I know, the Pure Dope don't even try to conceal the frequencies below 120 Hz. The manufacturer's stated 8 Hz are impossible to hear, but the 29 Hz (which I am still capable of hearing) are reproduced in their entirety. At the same time, the lower part of the range remains textured and 'revealing'. Just listen to something like Red Snapper – Regrettable or Neroche — Implements of Magic, and any doubts about Pure Dope's low-frequency cabalitieswill be dispelled.
I suspect that such lower frequencies reproduction is due to the completely closed-back design of the headphones enclosures and the internal horn structure.
And finally, the third aspect — the mirco details. The degree of detailing here is just beyond anything you could imagine: these headphones are able to decompose tracks of almost any level of music complexity and polyvocality and . Did you know that there's a 'distorted copy' of Sandra Nasić voice under her normal voice at 2:46 of the Apocaliptica — Path Vol. 2? Now you know With 'normal' headphones, these details are rather similar to the sound of writing on the blackboard with a piece of chalk. But the Pure Dope allow you to hear this dub quite clearly.
I find no sense to break down every section of the frequency range, since every part of it perfect just as it is. The sound stage is perfectly organized, the instruments are pretty well separated and positioned (and here, for the sake of objectivity, I will say the positioning can be better), the volume and the distance to the instruments are perfectly conveyed. It seems to me that the Pure Dope sound exactly like some very decent neutrally tuned multi-driver armature headphones for a quite outrageous price.
Obviously, such a delivery and such tuning have their negative points: all the music, which was mixed and mastered for the usual headphones with a 'coloured sound', starts to sound… well, not what the artists intended, to put it mildly. For example, in the Ane Brun — Balloon Ranger the sibilants are just too much, the Xploding Plastix — More Powah To Yah grates on your ears, and all the sloppily compressed tracks are all crackly. And lastly, long listening sessions with such peculiar sound delivery will certainly not be welcomed by everyone and not suited for any type of music.
Talking about genre focus, then it's safe to state the following.
Regardless of the listener's preferences, Pure Dope are certainly good at reproducing any musical content that wasn't unmercifully overmastered after recording. In other words, any academic music and everything performed on real or acoustic instruments, sung by a living person, well recorded and not too distorted and compressed, will sound just perfect.
If you're okay with some fair neutral tuning and are ready to handpick high-quality recordings with good mastering, then you can consider the Pure Dope as genre-versatile. Although, I can still hardly imagine listening to Amon Amarth, for instance. Honestly.
So, who are these headphones for? I can come up with two reasonable answers:
For musicians/sound engineers, who may need to work on their musical content in a way that wouldn't disturb anyone, or anywhere away from their usual working environment. For example, at home or when traveling, or at night. The Pure Dope are perfect for this task. I believe that in terms of sound they're even better than the well-known full-size and more expensive closed-back Beyerdynamic creations. The Pure Dope are also way lighter and smaller.
For audio purists (like myself) who either like this kind of 'honest' delivery, or want to be able to refer to the benchmark sounding at any moment. So you don't forget how the track should actually sound, you know.
Here again I'd like to remark, that the sounding of Pure Dope can be easily changed using alternative eartips. For example, when used with the SpinFit CP100, these headphones start playing a little less sharply and deliver more bass without losing in detail and speed.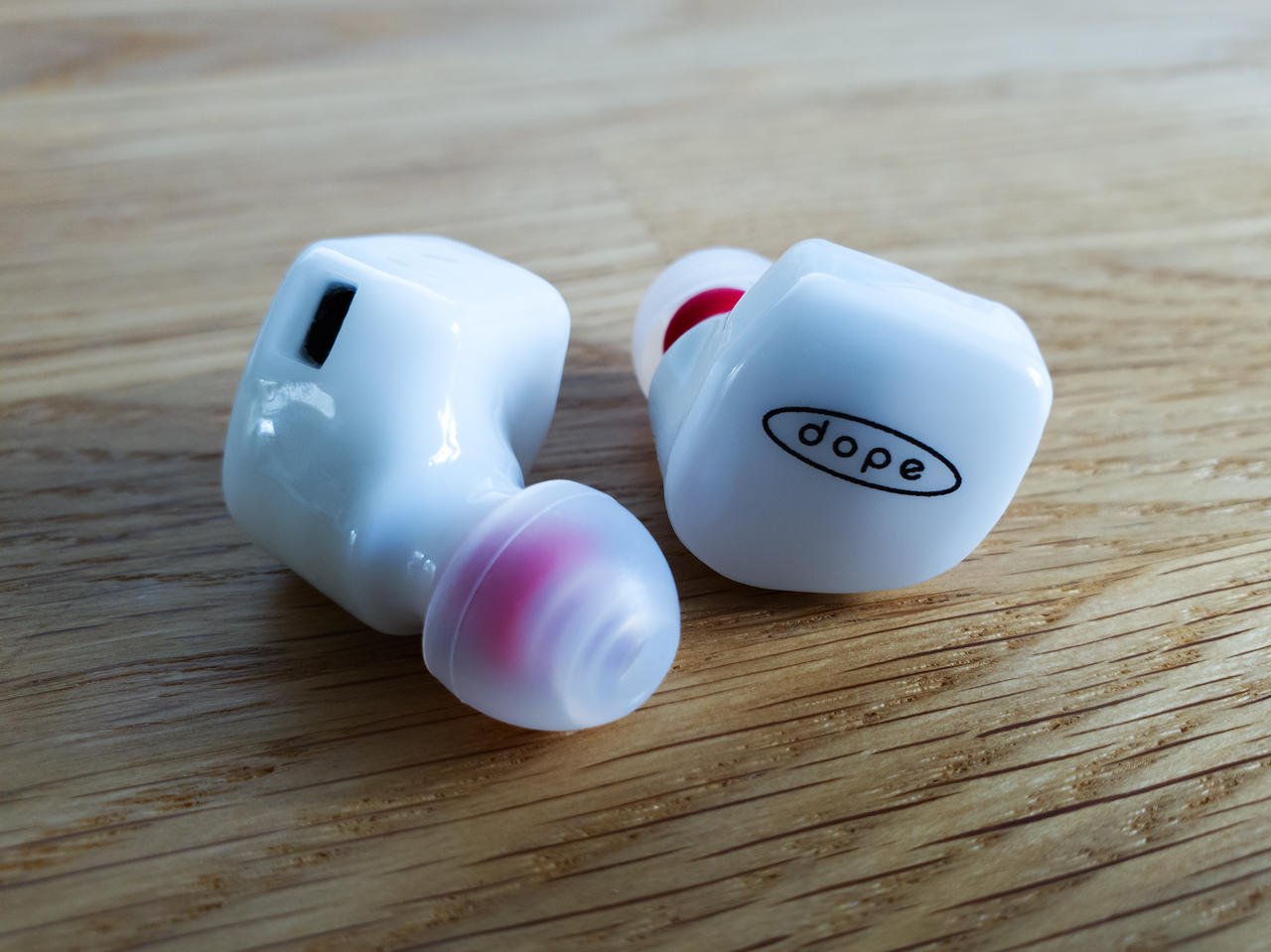 And, by the way, the CP100 make the fit just as comfortable and secure.
Let's sum it all up.
Dope Audio created quite literally great headphones: technically perfect with 'fast', 'detailed' and true to the source sound. The package includes 3 pairs of eartips, the headphones themselves and a fairly simple cable; the enclosures are made in an expressly austere manner. This is basically how all Pure Audio models are designed and supplied. I believe that there's an obvious message that Pure Audio doesn't try to offer their customer a kind of look, a lifestyle, a fashion statement, but sound in its purest form — quite modestly priced, too.. An exceptionally appealing approach, I must say.
Like this review? You can support me on patreon.