About computer desks and workplaces in general
Choosing a computer desk is indeed challenging. Almost every furniture store offers a bunch of those ugly closet-like freaks that steal a good half of the room. Let's not forget about ridiculous stands for CDs, platforms for 17-inch monitors and other nonsense.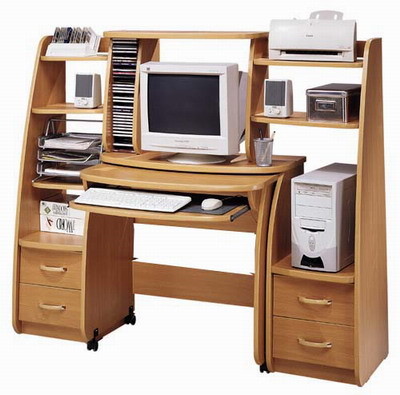 I have basically no idea why these infernal monsters from the 90s are still here nor do I know who actually may buy it and why. It's not that I would love to know it, but still.
My passion for minimalist lines says an ideal computer desk should look something like the following:


First of all, the main element of the desk is always a large monolithic table top, comfortable to put your elbows on, to fit your display and other peripheral devices, and to still have a nice bit of space for any other activity you may want to do.
Then, the surface of the desk should be convenient in terms of cleaning, because — don't you even try to deny it — we all love to eat while doing things on the Internet, spill coffee on the desk and so on. So, the surface should be scratch-proof, dirt resistant and able to hold out against a plate of hot food or a cup of coffee. In other words, it should be a table top which you would confidently choose for your kitchen.
Third, you should be able to fit speakers on that desk. And not just put them in any available corner but to position them as ergonomically as it's possible. It would also be cool to have speaker tweeters located right at the height of the user's ears, because they (tweeters) produce an exceptionally narrow beam of sound.
Fourth, you would probably want to position the tower of your PC under the desk, but not right on the floor (even if you sweep the dust down there every couple of hours, it's still not the best decision).
Fifth, you would certainly want to arrange everything in such a way that cables don't get entangled on the floor like a dozen of mating anacondas but are neat and tidy (which is not always an option) and ideally just stored away where you cannot see them.
And finally, it would be nice to have your desk just hanging in the air, because it makes it much easier to wipe the dust on the floor. You don't need those feet, I swear.
It turns out that an ideal computer desk is a scratch-proof heat-resistant board which is floating in the air and on which there is a display, keyboard and mouse. Speakers are located on each side (floating, too), and the tower is under the desk. Again, in the air. No wires visible.
Of course, there is no way to achieve this with current technologies, but I could at least try to craft something similar.
In my case, the task was complicated by the need to set up not just a workplace, but two workplaces close to each other just to make the most of our small apartment. The second workplace is for My Fair Lady, who uses a laptop for work. That is, I had to consider some space to fit the laptop power supply unit and its cable into. As well as an additional drawer for her priceless papers.
Since no store offers such sci-fi'ish desks, I've drafted a drawing and ordered the manufacturing.
Here's what I've got (photo shot with a screwdriver):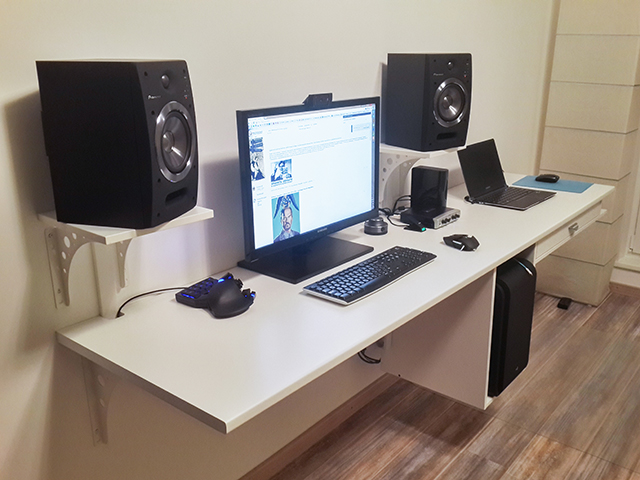 As you can see, the desk meets all of the preferences I've mentioned above as much as it's possible. To mount the desk itself on the wall I've used 4 brackets — each with 95 kg of maximum load. The speakers shelves are mounted with the same but slightly smaller brackets holding max 40 kg each. Cables are laid in cable channels. А socket to plug all our devices is located behind the tower unit, so it's not visible on the photo. There's a gap between the tower enclosure and the wall behind it, so there is enough space for heat removal. The cooling inside the enclosure deteriorated slightly, but that was compensated by an additional exhaust cooler on top of the tower.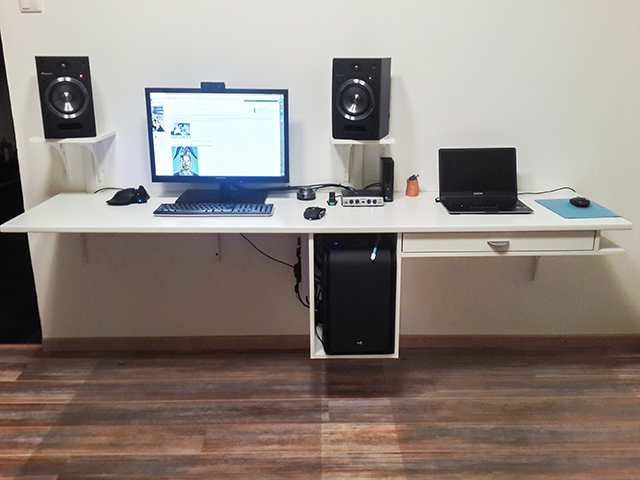 I'm also thinking about hanging my display on the bracket to get some more free surface on the desk. If placed ergonomically, it should be possible to turn the display to the right side and connect it to the laptop — very convenient.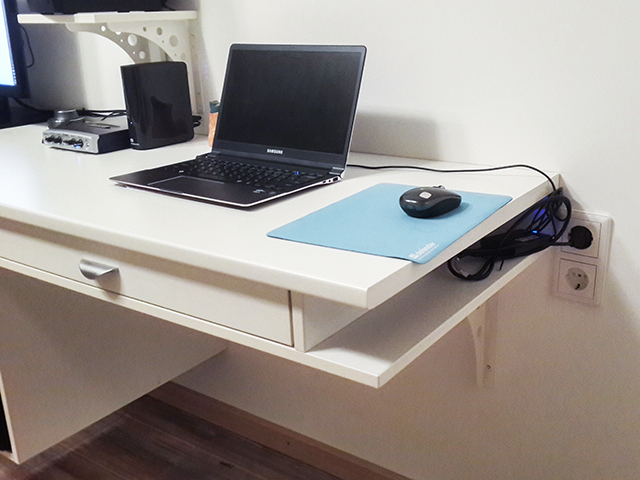 The speakers shelves are a little larger then speakers themselves so that it could be possible to clip a couple of Ikea lamps on them if more illumination is needed.
As for the wires… I've managed to get rid of the keyboard, mouse and twisted pair wires because, obviously, they all are wireless. The external hard drive will also be sent out to the media server in the closet very soon — minus another two anacondas from their deadly knot of love. The thick DVI-D display cable has been replaced with a thin DisplayPort cord. The printer is now connected via Wi-Fi while being hidden in the closet. It suddenly turned out that the Razer Nostromo cable is too short, but this problem may easily be fixed with a USB extension cable.
What I haven't taken into account is a gap between the upper part of the tower enclosure and the table top, because, well, I still have some USB-devices to connect. I certainly had to design the tower compartment a bit higher. On the other hand, this is not a problem if you use an external USB-hub, which is even better given the additional memory cards slots in it.
The only disadvantage of such design is the inability to move the desk freely around the room. But how often do you move your desk? Exactly — literally never.
That's pretty much all I had to show you.
UPD (20.08.2009) After four years the desk looks like this: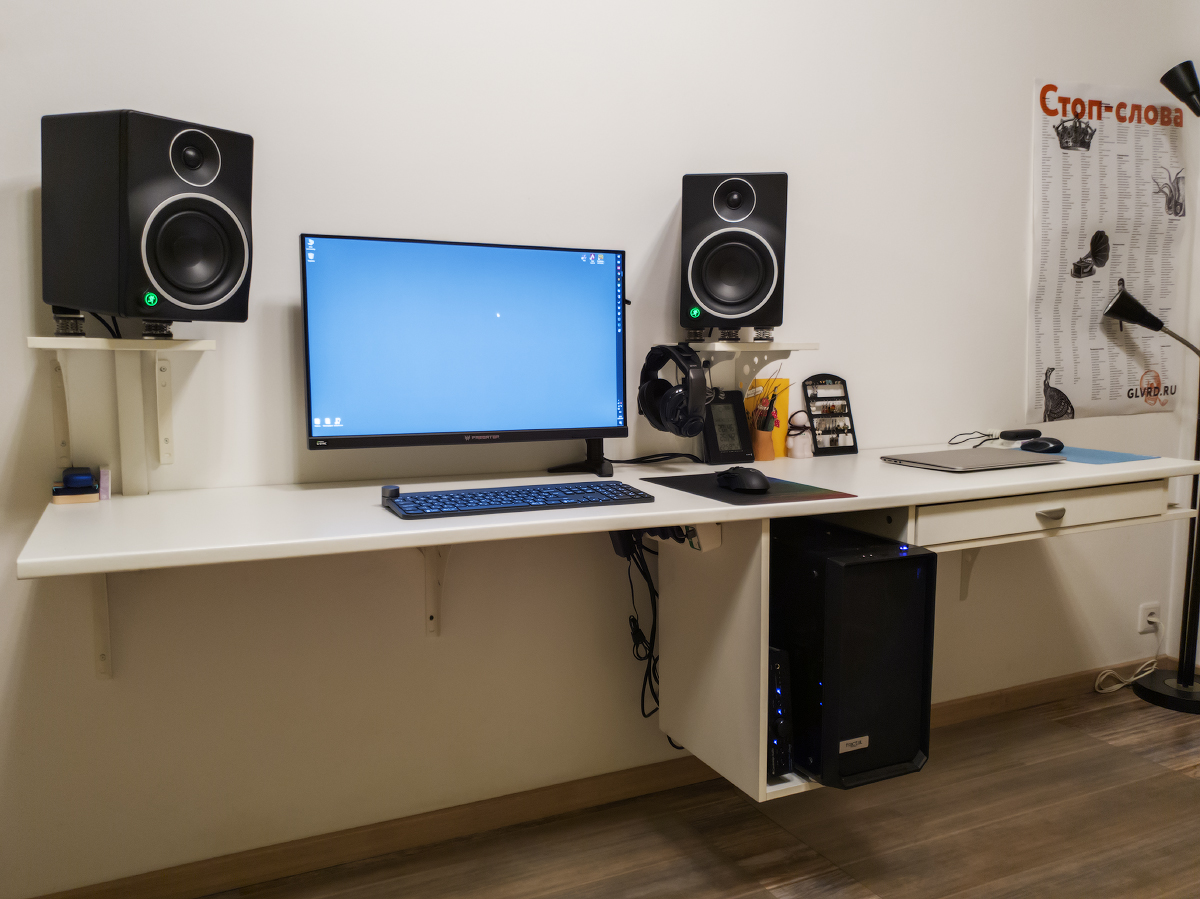 The desk has totally proven its worth. Everything "works" as expected.
Some improvements I've made since the original post:
The multiplier is positioned vertically, and it's very convenient.
The tower's enclosure is replaced with Fractal Design Meshify C Mini. See the insides here. No problem with access to the front USB-ports.
The sound card (it's a Cambridge Audio DacMagic Plus, btw) is now standing from the left side of the tower. Isn't that smart?
I've also transferred all of my digital belongings from the external hard drive to the cloud — the second hard drive is connected to the router.
The webcam was given to a friend of mine since I don't really need it.
The external Wi-Fi adapter was replaced with Intel AX200NGW.
On a small bracket on the speaker shelf you can see an awesome gaming headset.
The display is replaced with ACER Predator XB271, so now my work and gaming are a lot more comfortable.
Keyboard — Logitech Craft, mouse — Logitech G900.
Can you see the isolation pads under speakers? These are what true audiophile choose. These speaker isolation pads ensure a slight lean forward so that the tweeters are pointed right to your ears.
What could be done better:
The brackets for speakers shelves could have smaller arches and be more delicate in general. They should be able to carry no more than 20 kg together, and not half of a ton, after all.
Well, table top depth could be larger. I'd say, 60–70 cm would be a lot more convenient than current 50 cm.